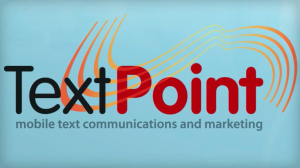 TextPoint connects your business to your customers' mobile phones through an easy-to-use portal. You can access it from your computer, laptop, or cell phone, and then you're on your way! And, if you're the type that doesn't have the time, inclination or staff to manage your messaging program in-house, TextPoint can be managed from our communications hub. All you need to do is call or email with your message, and our TextPoint team will get it out for you!
TextPoint is a completely opt-in system for your customers.
Text to enroll
Web subscription
Social media integration
TextPoint's portal gives you complete control.
Send text messages whenever you need

Open the portal
Enter your message
Hit Send!
Track opens, conversions and forwards

Update pricing
Announce promotions and sales
Send emergency alerts

Storms
Power outages
Local news
TextPoint integrates with your customer data.
Our set-up includes development of standard alerts tied to your customer accounts, so communications are even more valuable. 
Send customer alerts for:

Past-due reminders
Appointment confirmations
Anniversary notifications/discounts
Birthday greetings/discounts

Customers can text for:

Bill payments
Balance inquiries
Service requests
Customer support
TextPoint lets you send pre-scheduled notifications to all your customers at once.
Our service includes pre-scheduled text blast messaging, so you can stay in touch – even if you forget!
Holiday announcements
Seasonal reminders
Annual sales/promotions
TextPoint offers scalable usage programs.
TextPoint management and usage fees scale to the services needed and the number of texts sent per month.
Stay in touch with TextPoint. Contact us to find out more.